Artificial intelligence, Open Insurance and predictive models provide access to new and powerful tools for all insurance players. Technological innovation focuses on the digitization of processes. The goal: to save time and refocus on the core business around a personalized offer and a quality customer service. Let's take a look at the levers to be used in life insurance.
Digitization of processes: a matter of course
The insurance industry has always placed the contracts management system at the heart of its business. However, a shift towards customer experience and relationships is now unavoidable, especially with the effects of the pandemic. In this sector, innovation is focused on facilitating all stages of the user experience, as well as that of insurers and intermediaries.
The hunt for time-consuming administrative burdens has become the national sport of Insurtechs. Let's take the example of customer relations, which have been turned upside down by the omnipresence of the smartphone. Policyholders want immediacy, transparency and personalized rather than standardized offers.
Focus on 3 advantages of digitalizing the customer journey
Extract from the Lab.UC Webinar of March 9, 2021, created by SeaBird with its partners Aramis, NeoXam, Quantalys, and Vermeg.
1. The vision of steering the design of the offer (for teams in charge of product innovation and financial engineering) so that it is well calibrated and referenced.
2. The provision of tools to the advisor so that he can understand the offer, model it, present it to the client, modify it if necessary, and follow it up.
3. The implementation of customer self-care, which must coexist with the first two axes so that the customer can navigate through a complex and information-rich regulatory environment.
In this respect, life insurance is a real case study. Enrolment in offers, monitoring of operations, reporting tools, arbitration, financial optimization, transmission: the old model needed to evolve. The arrival of Big Data has offered a breath of fresh air, with the opportunity to retrieve and analyze masses of data. But you still need to have the skills and tools to exploit them…
In the same way, open insurance with APIs has opened up perspectives and above all the door to new players: insurtechs. More flexible than traditional life insurers, these digital start-ups are seductive because of their ability to innovate and respond to current customer needs.
Insurance challenges: breaking down silos and reorganizing the value chain
At the end of 2021, the Insurtech Panorama in France, maintained by Klein Blue[1], counts 252 startups in three categories:
– "products" (white label, on-demand insurance, parametric insurance, etc.) ;
– distribution" (life insurance/individual savings, personal liability insurance, health insurance, etc.)
– services for insurers and brokers (actuarial and risk management, underwriting and management, B2B robot advisors and customer profiling, etc.).
The life insurance segment represents only a part of this ecosystem. In March 2021[2], fundraising amounted to €12, 2 million for life insurtech, compared to €183.6 million for non-life insurtech, €19.6 million for insurer services and €0.8 million for RegTech.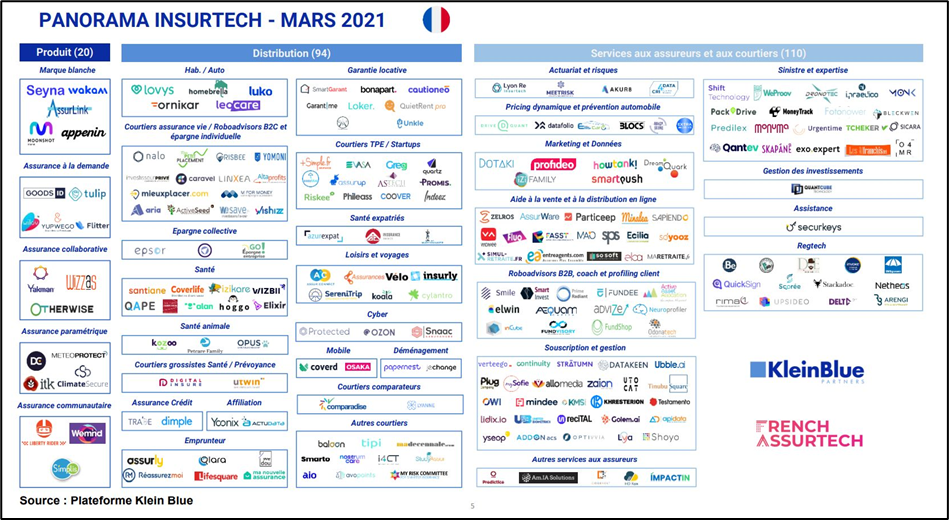 Assurtechs classified by category
Fundraising is intensifying competition for insurers, especially as the attention of many players is being formalized around life insurance. The returns on guaranteed euro funds are running up against inflation. Savers are turning to unit-linked products, with risk management to be understood and stock market arbitrages to be carried out.
At the crossroads of life insurance and financial investments, these products are whetting the appetite. At risk of being relegated to the role of mere distributor (the commoditization of insurance), insurers are reacting by innovating or joining forces with Assurtech. And it is the entire value chain (management companies, insurers, distributors, customers) that must reorganize itself.
Example: From offer to customer subscription: breaking down the silos
The customer journey can be initiated by an intermediary, completed by financial data delivered by a manager, information which is then integrated by an insurer.
Levers for optimizing innovation in life insurance
AI, CMX, predictive models: there is no shortage of ways to accelerate innovation in life insurance.
Artificial Intelligence and Robo Advisors
Robo-advisor algorithms and artificial intelligence have enabled the emergence of new players in the life insurance market. They deliver personalized advice, guiding their audience, especially 18-35 year olds, in their financial projects.
These Assurtechs try to personalize their offer as much as possible according to the risk profiles and savings objectives of each individual. The money is generally invested in ETFs, which are less costly in terms of management fees and offer interesting performances. The offer is more accessible and financial education is integrated into the acquisition strategy.
Another example of the use of artificial intelligence in life insurance is the management of beneficiaries. The regulatory and fiscal framework is a real obstacle to the customer experience. AI optimizes processes to create a fluid path that simplifies the task of professionals and beneficiaries.
Managing the customer experience (CMX)
Experience management is part of the process that has refocused the customer at the expense of the product. Insurers need to be particularly vigilant throughout the customer lifecycle. Thanks to the large amount of data collected and analyzed, innovation opens up new perspectives such as
– Mapping of member journeys using modeling tools (identifying interaction modes, exchange channels, friction points, etc.);
– measuring customer satisfaction to improve customer service empathy and adjust the message
– interaction management with the automation of personalized messages through software solutions in the IT department, or the interoperability of systems to ensure the circulation of information and its traceability.
The era of Open Insurance and APIs
Access to insurers' resources by third parties (Open Insurance) is a regulatory innovation that promotes partnerships. This allows insurtechs to leverage customer data, but also insurers' offerings and infrastructure. This model allows for innovative services and improved distribution.
Open Insurance uses APIs (Application Programming Interface), interconnecting two foreign applications, a system of bricks. A brick can represent an insurance service or product. For insurance professionals, APIs offer great flexibility to design, use and administer their products (as a service).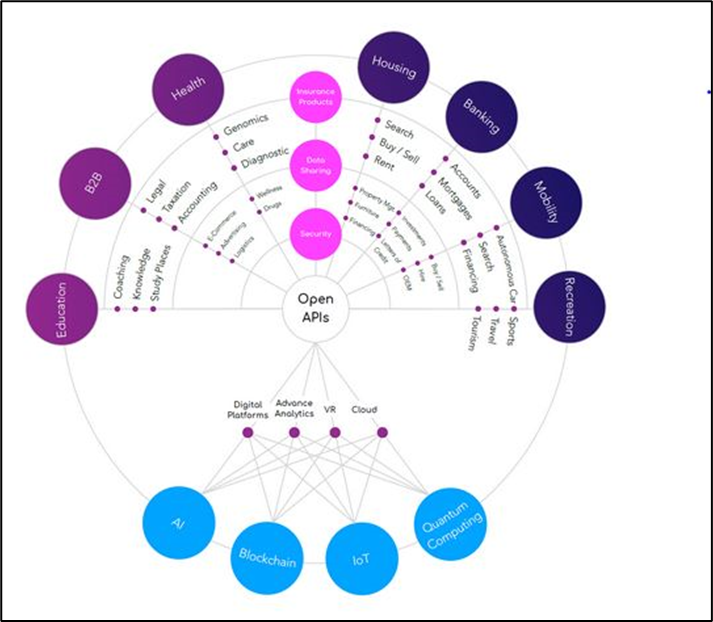 Perspectives of the open model based on interface interoperability[3]
Predictive modeling and data analysis
Prediction tools are used at all stages of the customer journey. Insurers can use these models to assess the risk profile or to estimate surrenders, when the policyholder will dispose of part or all of his savings before the contract matures. Insurers need to anticipate this to limit the risk of liquidity and concern about asset-liability management.
Predictive analysis consists of verifying the causal links between the information gathered following the preliminary data mining stage (extraction of relevant data from a large volume of information). In addition to internal data, insurers must take into account external data (big data) to enrich their model and propose a personalized offer and service.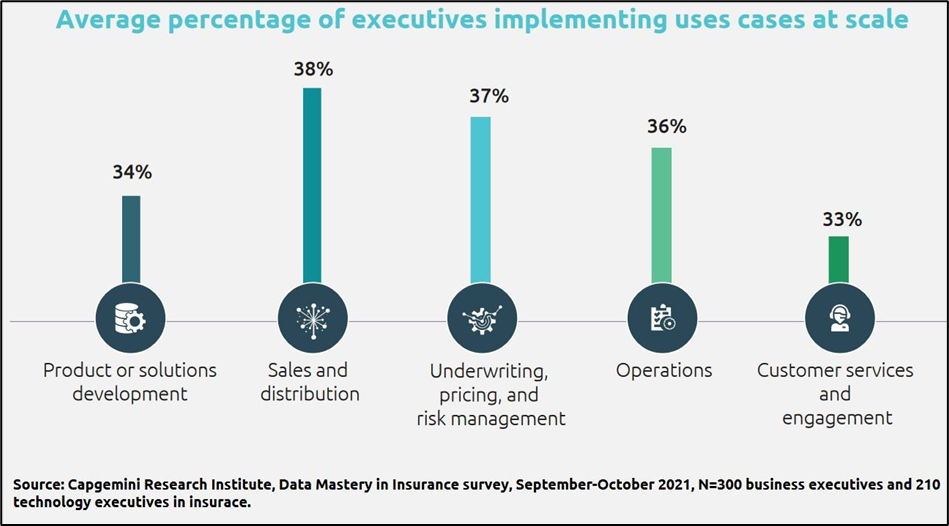 Insurers' data exploitation projects: breakdown by department[4]
With the knowledge of these optimization levers, Hokus Plateform is part of this movement to facilitate the task of all life insurance actors (middle office, private banks, compliance, etc.).
Our open architecture SaaS solution focuses on the digitalization of processes. For example, an insurance agent has a complete view of the client portfolio and all the contracts taken out. His team has the possibility to follow up on the files, to accelerate the onboarding with a KYC touch and to work with other life insurance players.
You want to digitalize your processes to improve your life insurance offers? Contact us now!
---
[1] https://www.kleinblue.fr/post/insurtech-innovation-dans-l-assurance-en-france
[2] https://www.kleinblue.fr/post/insurtech-innovation-dans-l-assurance-2021
[3] https://openinsurance.io/
[4] https://www.capgemini.com/research/data-masters-in-insurance/ « The data-powered insurer : Unlocking the data premium at speed and scale »